Summary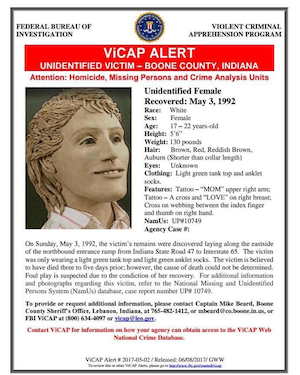 In May 1992, the Boone County Sheriff's Office was informed of human remains that were discovered in a ditch on the East side of the on-ramp of I-65N from S.R 47. The remains belonged to a young female and were located by a farmer in a nearby field. The body was approximately 50 feet east of the ramp at the bottom of an embankment. The young woman was found wearing only a bright green tank top and bright green socks. Investigators determined that she was a white female approximately 5'6" tall and that we likely weighed 130 lbs. Her hair was reddish-brown and approximately 2 inches in length. Time of death was estimated as 2-4 days prior to the discovery of her body. A dental analysis suggested that the young woman was between 17-22 years old when she died. Early on, the death was treated as suspicous and the case was submit to FBI ViCAP.
Over the next several years, multiple attempts were made by many individuals and agencies to establish an identification for the unknown young woman. In 2012, the Indiana State Police extracted DNA from her skeletal remains and developed in a traditional STR profile. The same year the case was submitted to the NamUs program. An STR profile search did not reveal an identity. Many attempts were made to develop forensic facial reconstructions, but ultimately investigators couldn't find anyone that recognized the reconstructions. In 2019, the Boone County Sheriff's Office attempted advanced DNA testing and forensic genetic genealogy but without success.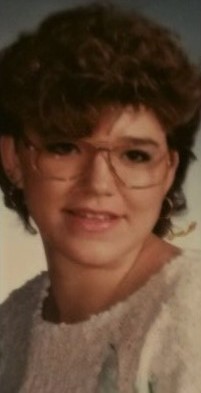 In 2020, Boone County Sheriff's Office partnered with Othram to use Forensic-Grade Genome Sequencing® to build a comprehensive genealogical profile. Skeletal remains were sent to Othram in early 2021. A suitable DNA extract was developed and Othram scientists used the DNA extract to build a genealogical profile. Othram's in-house genealogy team performed a genealogical search and returned investigative leads back to Boone County Sheriff's Office. Investigators at the Boone County Sheriff's Office were able to make contact with candidate family members of the unknown woman and additional confirmation DNA testing at the Indiana State Police laboratory confirmed that the unknown woman was 17-year-old Margaret Ann Sniegowski Jr. from Toledo, Ohio.
At this time, the death is being investigated as a homicide. With Margaret's identity restored, there is now hope that investigators can trace her final days and identify the person or persons responsible for her death.
---