Summary
In December 1996, a groundskeeper at Pleasant Valley Memorial Park Cemetery in Annandale, Virginia discovered a woman's body. She was found in the section designated for infant burials but not near a particular grave. The unidentified woman was found with a small 8 inch christmas tree and when her identity could not be determined, she became known as "Christmas Tree Lady". The woman was described as being Caucasian, with red/copper hair, standing about 5 feet tall. She was believed to be between the ages of 50-70 years old at the time of her death. The case was entered into NamUs as UP6279.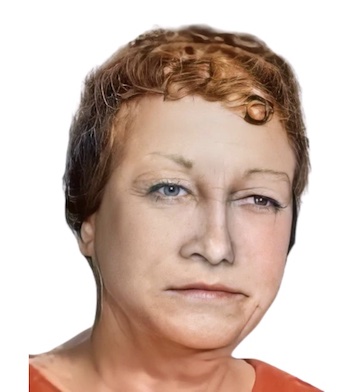 Her autopsy report revealed she had alcohol and valium in her system at the time of death. She was discovered with a plastic bag over her head, along with two fifty-dollar bills, one for the coroner, and one for the cemetery. There was a note accompanying her body that read: "Deceased by own hand... prefer no autopsy. Please order cremation with funds provided. Thank you. Jane Doe". Investigators suspected the death was a suicide and the official cause of death was determined to be suffocation.
Detectives from Fairfax County Police Department Cold Case Squad spent years tracking down clues about the woman known only as "Christmas Tree Lady". They compared her physical description to numerous missing persons cases in the National Capital Region but were unable to find a match. In 2000, a colorized sketch of the woman was produced in hopes that it might be recognized by friends or family but the sketch did not produce leads to her identity. With all leads exhausted, Fairfax County Police Department engaged Othram with the goal of using advanced DNA testing to identify this woman or a close relative.
In January 2022, Fairfax Police Department detectives sent physical evidence to Othram and Othram scientists used Forensic-Grade Genome Sequencing® to develop a comprehensive genealogical profile for the unknown woman. Othram worked with forensic genetic genealogist, Carla Davis, to execute the genealogical search and perform the research necessary to produce investigative leads. The costs associated with this casework were funded by a DNASolves crowdfund and a substantial contribution from an anonymous donor.
In May 2022, investigative leads were returned to the detectives and this led to a connection with one suspected family member of the unknown woman. From there, the investigation led to additional family connections across the country. A DNA sample from a close relative confirmed a match and this confirmation was further corroborated by conversations with long-lost siblings. The woman known for a quarter century as "Christmas Tree Lady" was determined to be Joyce Marilyn Meyer Sommers, originally from Davenport, Iowa. She was the oldest of 5 siblings.
Meyer was 69-years-old when she was found deceased. Family members believe Meyer may have moved to the Virginia area sometime after the mid-1980s. At the time of her death, Meyer was not reported missing and did not have family in the immediate area. Although she was not reported missing, her family had spent years looking for her and even hired a private detective. Additionally, it appears that Joyce did not have any children.
In an agency press release, Major Ed O'Carroll, Bureau Commander, Major Crimes, Cyber & Forensics, at Fairfax Police Department said: "After decades of wondering what happened to their loved one, Joyce's family is finally at peace thanks to the dedicated work of several generations of FCPD detectives, anonymous donors and Othram. Our detectives never stopped working for Joyce and her family. Advances in technology will continue to help close cases and provide answers to victim's families."
---