Summary
In August 2008, an individual walking along the beach near the old Silver King Resort west of Port Angeles, Washington discovered a shoe containing a sock and what appeared to be human skeletal remains. Detectives with the Clallam County Sheriff's Department responded to the scene and collected the items. Investigators with the King County Medical Examiner's Office confirmed the remains found inside of the shoe were part of a human foot.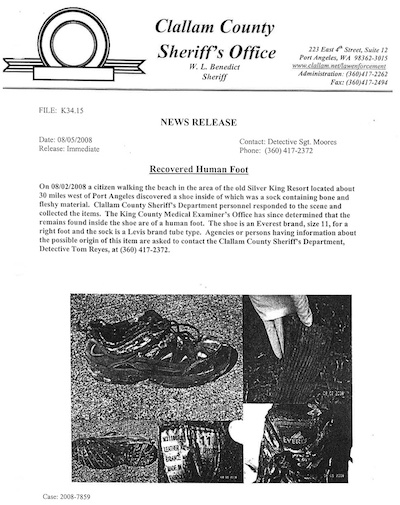 The Clallam County Sheriff's Office published a news release on August 5, 2008 that included details of the discovery along with photographs of the shoe and the tube sock. Investigators confirmed that the shoe was a size 11 Everest brand made for the right foot. Additionally, a Levi's brand tube suck was also recovered. No other identifying information was discovered and despite investigators' efforts, the identity of the individual remains unknown.
In 2023, the Clallam County Sheriff's Office partnered with Othram to determine if advanced DNA testing can help to determine the identity of the person to whom the recovered foot belongs. Othram scientists will work to develop a suitable DNA extract that can be used with Forensic Grade Genome Sequencing® to develop a comprehensive DNA profile to be used in records research and forensic genetic genealogy. Anyone with information that could aid in the investigation is encouraged to contact the Clallam County Sheriff's Office by calling 360-417-2262 and referencing agency case number 2008-7859.
A DNASolves crowdfund has been established to cover the casework costs. Anyone can contribute here.
Contribute Now
Your contributions pay for lab supplies and research tools
---