Summary
In May 2020, Galveston Police investigators responded to the discovery of young black man found on the beach near Kahala Drive in Galveston, Texas. The young man had drowned but the the circumstances of his death are not clear.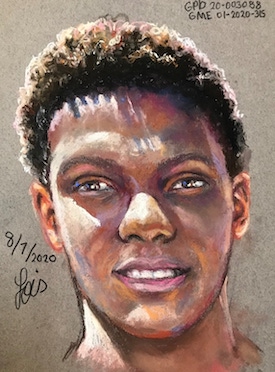 Working with the Galveston Medical Examiner's Office, the Galveston Police Department was unable to establish an identity for the young man. There was no identifying information found at the scene, and he did not match records of missing individuals. The case was entered into NamUs as UP69355. Investigators described the man as African American and likely between the ages of eighteen and thirty-five, with a height of five feet seven inches and a weight of about 150 pounds. He was wearing black shorts, grey Calvin Klein boxers, and his hands were fitted through white Under Armour sandals. A forensic facial reconstruction was commissioned by the Houston Police Department but no one recognized the man. With all leads and traditional avenues exhausted, the case soon when cold.
Later that year, the Galveston Medical Examiner's Office and the Galveston Police Department partnered with Othram to see if advanced DNA testing and forensic genetic genealogy might produce new leads to the identity of the young man. A DNASolves® crowdfund was established to cover the costs of Othram's testing and investigative research. We are grateful to everyone that helped crowdfund this case so that we could assist law enforcement in working this case.
Othram used Forensic-Grade Genome Sequencing® to build a comprehensive DNA profile and then Othram's in-house genetic genealogy team used the DNA profile in a genealogical search. Initial analysis of the DNA profile revealed that the young man's biogeographical ancestry was substantially East African. Further analysis suggested that the individual might be Somali Bantu or Kenyan Bantu. These leads were returned to law enforcement and through a follow investigation, a hypothesis was developed that the young man might not be American and that he might have been visiting from overseas.
In 2023, investigators were able to confirm that in fact, the young man found on the Galveston beach was 24-year old Calvin Mbwambo, an exchange student from Tanzania.
Updates
From initial DNA analysis we suspect a substantial part of the victim's ancestry is East African. Analysis suggests that genetically, this individual could be Somali Bantu or Kenyan Bantu.
---