Summary
In 2018, employees from a tree cutting service discovered a human skull in a wooded area where they were working, along side Champion Hill Road in Bolton, MS. Additional search efforts yielded additional skeletal remains. The Hinds County Sheriff's Office and the Mississippi Bureau of Investigation were called to investigate the scene. Cause of death could not be established, although it was noted that the remains were partially burned.
Investigators estimated that the remains belong to an African American woman that was likely under the age of 30 years of age, but not much else could be learned because only a partial set of remains were found. The case logged into NamUs but with traditional methods exhausted, the case soon went cold.
In 2021, as part of an ongoing collaboration, the Mississippi State Medical Examiner's Office teamed with Othram to use Forensic-Grade Genome Sequencing® to develop a comprehensive genealogical profile from the burned skeletal remains. The condition of the skeletal remains necessitated additional processing steps to make DNA suitable for advanced testing. After multiple rounds of testing, Othram scientists were able to build the necessary profile to enable genealogical search. The costs associated with this case were funded by Mississippi native and philanthropist, Carla Davis. In addition, Carla Davis led the genealogical research to search for possible family members of the unidentified woman.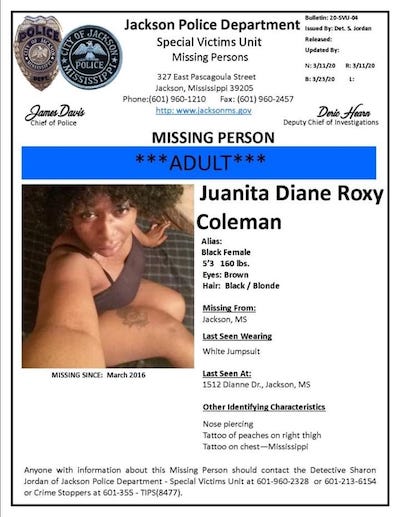 Investigative leads were returned to law enforcement and in a follow up investigation paired with KinSNP® rapid familial testing, the unknown woman's relationship to a close family relative was established. The investigation confirmed that the unknown woman was Juanita Diane Roxy Coleman.
Remarkably, Juanita was reported missing in NamUs and also at The Charley Project. According to The Charley Project, Coleman was last seen in the 1500 block of Dianne Drive in Jackson, Mississippi on April 1, 2016. She would have been 19 years old at the time of her disappearance. Her family heard rumors that she was shot in the face, but there was no confirmation or additional details available at the time.
An investigation into her death continues. Anyone with information about Juanita should contact the Detective Sharon Jordan of Jackson Police Department - Special Victims Unit at 601-960-2328 or 601-213-6154.
---