Summary
In October 2011, a Colorado Mesa University instructor and a group of students discovered a skull near the Umcompaghre Plateau wilderness area in rural Mesa County. The students were environmental science majors performing a fire management field project on the plateau just a few hundred yards off Divide Road near the town of Whitewater, Colorado. The Mesa County Sheriff's Office was able to determine that the skull belonged to an adult male, but there few other insights that could be gained from the partial remains. No determinations could be made about the unknown man's height, weight, or outward appearance. It is also unclear how and when the unknown man died.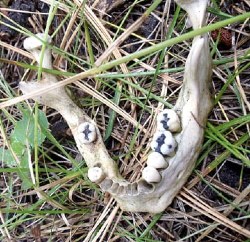 For the past decade, investigators have diligently pursued various leads in an attempt to identify the man. Initially, the skeletal remains were transferred to forensic anthropologists who determined that the skull was not related to any missing person cases in the county. In December 2011, the Colorado Bureau of Investigation conducted DNA testing and were able to produce an STR profile but a search in law enforcement databases did not return a match. In 2020, the unsolved case was entered into the National Missing and Unidentified Persons System (NamUs). The case is logged as #UP64014. Despite exhaustive investigative efforts, law enforcement was not able to identify the man and the case went cold.
In September 2022, the Mesa County Coroner's Office partnered with Othram to determine if advanced forensic DNA testing could help establish an identity for the man or a close relative. Othram will work to develop a comprehensive DNA profile using Forensic-Grade Genome Sequencing® and then the team will use the profile in a genealogical search. Anyone with information that could aid in this investigation is encouraged to contact the Mesa County Coroner's Office by calling 970-244-1898 and referencing agency case C19-787. A DNASolves fund has been created to have contributed to the costs of DNA testing and genealogical research and anyone can contribute here.
Contribute Now
Your contributions pay for lab supplies and research tools
---