Summary
In June 1979, the remains of an unknown female were located by a stonemason on an embankment between the Juniata River and the eastbound lanes of Route 22/322, near Watts Township in Perry County, Pennsylvania. The skeletal remains were determined to likely belong to a white female between the ages of 15 and 30. The woman had light brown to blonde, medium-length hair. Investigators estimated her height to be 5'6" and weight to be 125 pounds. The woman's cause of death could not be determined; however, investigators listed the case as a suspicious death due to the circumstances around the discovery of the woman's remains.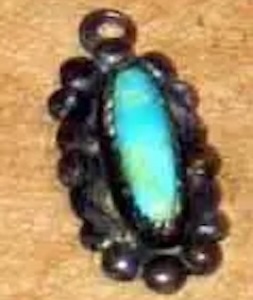 At the time of her discovery, the woman was wearing multiple pieces of turquoise jewelry including a ring, a necklace, and a pair of earrings. She also wore an onyx ring and another ring containing turquoise and onyx with possible Southwest Native American origins, likely originating from the New Mexico/Arizona region. The woman was buried shortly after her discovery. Despite the available evidence and diligent work of investigators, the case went cold, and the woman became known as Perry County Jane Doe (1979) and "Girl with the Turquoise Jewelry."
In 2008, the woman's remains were exhumed so that DNA testing could be performed in hopes of identifying her. In 2009, details of the woman's unidentified person case were entered into the National Missing and Unidentified Persons System (NamUs) as #UP5166. A forensic sketch was created to depict what the woman may have looked like during her life and in 2015, isotope testing by the Smithsonian Museum Conservation Institute provided additional insight. Analysis of her hair indicated that she might have visited the Southwest United States in the months prior to her death, while analysis of her teeth suggested that she likely grew up in the Great Lakes region, possibly in Southern Canada.
In 2023, the Pennsylvania State Police and the Perry County District Attorney's Office partnered with Othram in hopes that advanced DNA testing will help finally identify the "Girl with the Turquoise Jewelry." Anyone with information about this case is encouraged to contact the Pennsylvania State Police by calling 717-671-7500 and referencing case number H5-0149355.
A significant portion of the costs associated with this case have been contributed by law enforcement, but we need public support to complete funding for the case. You can help fund this DNASolves crowdfund here.
---