Summary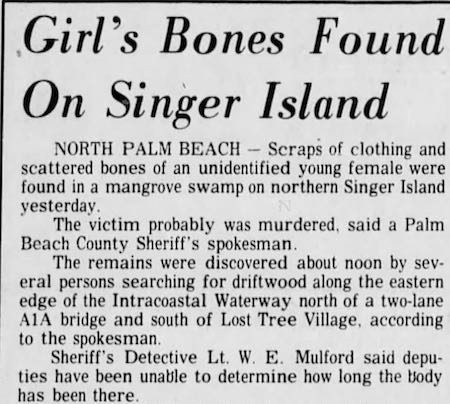 In 1974, Palm Beach County Sheriff's Office investigators were called to the Burnt Bridge area where they found skeletal remains of a young girl. The unknown girl was described as a white female between the ages of 14 and 25. She was likely 4'11" to 5'2″ tall and weighed approximately 83 to 103 pounds. Only partial remains were found and her clothes were mostly deteriorated, making it challenging to collect any clues as to what might have happened. Clothing found at the scene included a black knit pullover sweater that was trimmed at the bottom, with a grey waistband and long grey sleeves that were capped at the shoulders. Ultimately, investigators were unable to confirm cause of death but it is considered suspicous. There is evidence that she was tied up before her death.
Over the years many attempts were made to identify the young girl. Her body was exhumed in April 2014. In 2015 a DNA profile was developed but there was no match in CODIS. Since developing a DNA profile, the case was entered into NamUs as UP16314 and several women were excluded with STR testing. In 2019, a new facial reconstruction of the girl was prepared by the Palm Beach County Sheriff's Office, but her image was not recognized by anyone.
In December 2021, The Palm Beach County Sheriff's Office sent skeletal remains belonging to the young girl to Othram in order to develop a DNA profile that could be used to identify her. Othram built the profile and in March 2022, Othram's in-house genealogy team returned investigative leads to agency. The Palm Beach County Sheriff's Office continued their investigation and contacted potential family members. Additional DNA testing of family members confirmed her identity as 15-year-old Suzanne Gale Poole, who had been reported missing in 1972, right before Christmas. She was born February 12, 1957.
It is possible that Susan Poole might have been a victim of Gerard John Schaefer, a serial killer who worked as a sheriff's deputy in Martin County, Florida. His crime spree spanned from 1969 to 1973, and he was eventually arrested and convicted of the murders of 17-year-old Susan Place and 16-year-old Georgia Jessup.
---