Summary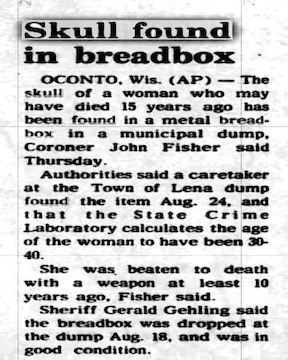 On August 24, 1979, a landfill caretaker in Lena, WI discovered a human skull inside of a metal bread box. The bread box was noted to be in good condition and the skull appeared to belong to an individual who, at the time, had died in recent years. The decedent was estimated to be between the ages of 30 and 40 years old at the time of death. Upon discovery, forensic anthropologists reported the sex of the individual to be female. No other identifying characteristics were observed and despite exhaustive efforts of the Oconto County Sheriff's Office, the identity of this individual remains unknown.
In September 2022, the case details were entered into NamUs as case #UP95145. In 2023, the Oconto County Sheriff's Office and the Brown County Medical Examiner's Office partnered with Othram, Inc. in The Woodlands, TX in hopes of identifying the unknown individual through advanced forensic DNA testing and genetic genealogy.
Initial analysis at Othram has determined that the sex of the unidentified individual is male and not female as originally thought, and reported by the Racine Journal Times in an article on September 14, 1979. Anyone with information that could aid in this investigation is encouraged to contact the Oconto County Sheriff's Office and reference agency case number OI22-3101 or NamUs ID #UP95145.
A DNASolves crowdfund has been created to raise funds for the remaining casework costs associated with identifying this individual. Anyone can contribute here.
Contribute Now
Your contributions pay for lab supplies and research tools
---