Summary
In December 2022, a man discovered human remains while riding his side-by-side utility vehicle in the deserts of Mohave County, Arizona. Mohave County Sherriff's Office Detectives responded to the scene located near Alamo and Boriana Mine Roads in the small desert town of Yucca. Upon their arrival, Detectives located the remains of an adult male wrapped inside of a tarp among a large pile of debris. The man's manner of death was declared as homicide and his remains were transferred to the Mohave County Medical Examiner's Office for the completion of an autopsy.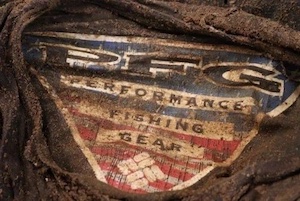 The man was determined to be 6'0" to 6'4" tall, between 200 and 220 pounds, and in his late 40s to early 50s at his time of death. Several articles of clothing were found on the man's body including size 11-11.5 "Durango Rebel" boots, a Professional Fishing Gear (PFG) shirt, and size 39W x 34L blue jeans. The man wore several pieces of silver jewelry including a ring, watch, and metal band. Investigators also located a Bic cigarette lighter and cell phone cover with the phrase "Fishing is calling you." The man had a single tattoo with the name "Chase" and partially legible date of "5/13/??". Despite available details, the identity of the man could not be determined.
In February 2023, the Mohave County Sherriff's Office Special Investigations Unit (SIU) teamed with Othram to determine if advanced DNA testing could assist in the identification of the unidentified homicide victim. Forensic evidence was submitted to Othram's laboratory in The Woodlands, Texas. Using Forensic-Grade Genome Sequencing®, Othram scientists developed a comprehensive DNA profile for the male victim. In the course of the investigation, a candidate family member was identified and contributed a reference DNA sample. The confirmation DNA testing combined with a follow up investigation, the agency led to the determination that the identity of the male victim as 50-year-old Brandon Ray Parlanti of Kingman, Arizona.
Anyone with information regarding Parlanti's death is encouraged to contact the Mohave County Sheriff's Office Detective Division at 928-753-0753 ext. 4288 and reference DR# 22-045997.
The costs associated with this case were funded by Project Grace, a philanthropic initiative with a goal to help clear backlogs of unsolved cases. Othram is grateful for the funding support for this case and several other cases that Mohave County Sheriff's Office is working with Othram including the recently-announced identification of Jordan Victor Carvalho.
Updates
Suspect arrested for the murder of Brandon Ray Parlanti
Weeks after Brandon Ray Parlanti was identified, a suspect has been arrested for his murder
---