Summary
In February 1996, Terrance Paquette arrived at the Lil' Champ Food Store, 4510 Clarcona-Ocoee Road, between 5 and 6 a.m. to prepare for a 6 a.m. opening. Within a few hours he was murdered by an unknown assailant, having been stabbed 73 times. He had only moved to Orlando a few years earlier, worked 60 hours weeks, and did not have many known associates. There were no witnesses to the murder and so investigators quickly exhausted all leads trying to find those responsible for Paquette's brutal death.
In 2003 the case was re-examined and the Orange County Sheriff's Office sought new leads in the case. Some exclusions were made using a DNA profile developed from crime scene evidence, but the murderer was not identified. The case had again gone cold.
In the fall of 2019, the Orange County Sheriff's Office engaged the Florida Department of Law Enforcement (FDLE) to assist with the case. FLDE contracted Othram to use advanced DNA testing to develop a comprehensive genealogical profile that could be used to generate new leads that might identify Paquette's killer. Othram used Forensic-Grade Genome Sequencing® to build a comprehensive genealogical profile. Upon successful generation of the profile, Othram returned the profile to FDLE, where FDLE investigators used forensic genetic genealogy to narrow in on possible suspects. Empowered by these fresh genealogical leads, investigators were able to confirm the suspect in the stabbing death of Terrance Paquette as 54-year-old Eustis resident Kenneth Robert Stough Jr, who is now being held without bail on charges of first-degree murder and robbery with a deadly weapon.
In August 2023, Kenneth Stough, Jr. was found guilty of First Degree Murder With A Weapon in the death of Terrance Paquette.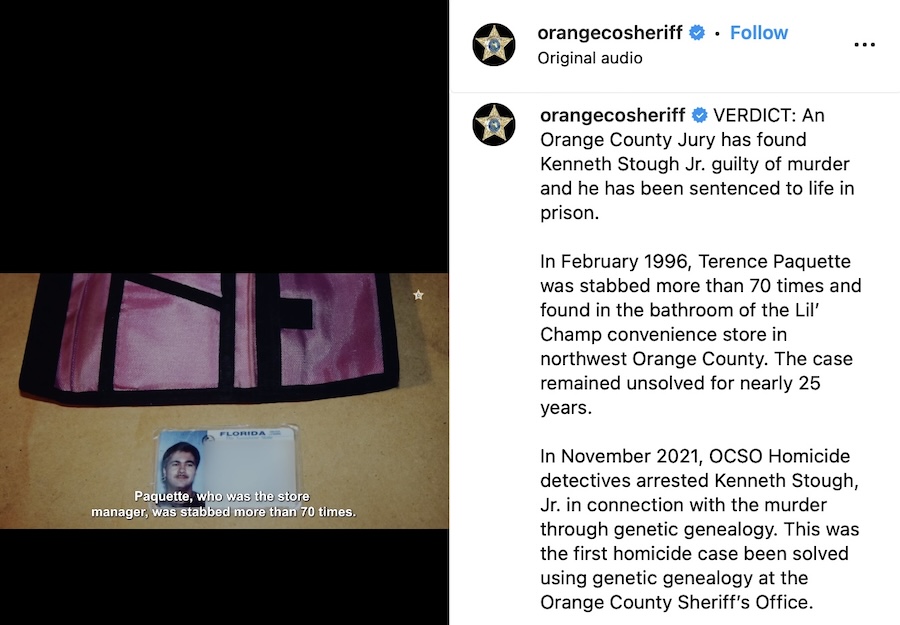 Updates
Kenneth Stough Found Guilty of Murder in 1996 Cold Case
Today, Kenneth Stough, Jr. has been found guilty of First Degree Murder With A Weapon in the death of Terrance Paquette at an Orange County convenience store in 1996.
---