Summary
In June 2020, the remains of an unidentified female homicide victim were found in the Union County, New Jersey city of Elizabeth. The unknown woman's body was located along railroad tracks in the area of the 300 block of Port Avenue. Investigators responded to the scene and transported the woman's body so that an autopsy could be performed, which determined the woman's cause of death to be homicide. It was determined that the woman was likely between the ages of 25 and 35 at her time of death. She stood approximately 5'6" to 5'7" tall and weighed 125 to 140 pounds. The unidentified woman had short hair and double piercings in both ears.
A forensic sketch depicting what the woman may have looked like was created and shared widely with the public, in hopes that someone might recognize her. However, with few leads to work from, investigators were unable to determine the identity of the woman despite exhaustive efforts. Details of the woman's unidentified person case were entered into the National and Unidentified Missing Persons System (NamUs) as UP74586. The unidentified woman became known as Union County Jane Doe (2020).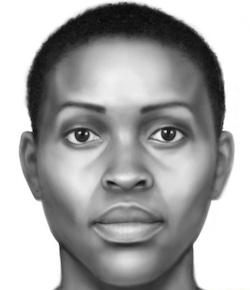 In March 2022, three years after the discovery of the woman's remains, the Union County Prosecutor's Office partnered with Othram to determine if advanced DNA testing could help provide an identity for the woman or a close relative. The Union County Prosecutor's Office Forensic Laboratory submitted forensic evidence to Othram's laboratory in The Woodlands, Texas. Othram scientists used Forensic-Grade Genome Sequencing® to build a comprehensive DNA profile for the murdered woman. Othram's in-house genetic genealogy team used the DNA profile in a genealogical search to produce investigative leads that were returned to investigators.
Using these leads, detectives were able to narrow down the search and identify the victim as Jasmine Featherstone of Elizabeth, New Jersey. Featherstone was twenty-three years old at her time of death and previously lived in Middletown, Connecticut.
The investigation into Jasmine's death is ongoing. Anyone with information about the case is urged to call Union County Prosecutor's Office and speak to Sergeant Lamar Hartsfield 908-451-1873, Detective Angela Concepcion at 908-341-5416, or Elizabeth Police Department Detective Louis Demondo at 908-558-2100. Tips can be submitted anonymously by phone at 908-654-TIPS (8477) or online at www.uctip.org; submission of tips made this way could that result in an indictment and conviction can be eligible for a reward of up to $10,000 via the Union County Crime Stoppers.
---