Summary
In January 1979, 16-year-old high school student Kim Bryant was abducted in broad daylight from a Dairy Queen restaurant on North Decatur Boulevard, near U.S. Highway 95. The restaurant was across from Kim's school and Kim had arrived with a friend to the restaurant before it opened. She had been reportedly waiting for a ride from her boyfriend when she vanished. It would be a month later when she was finally found in a desert area near West Charleston Boulevard and South Buffalo Drive. She had been brutally sexually assaulted and murdered.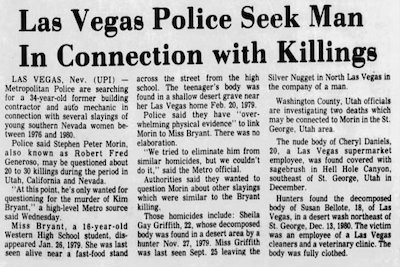 Over the years, a lengthy investigation ensued, spanning decades, and all available investigative leads were exhausted. Although there were various theories and persons of interest, the case ultimately stalled and Kim's killer remained undiscovered. More recently, a STR profile was generated from DNA evidence and revealed an unknown male (not found in CODIS), but the profile was valuable in excluding persons of interest.
In 2021, as part of a continued collaboration between LVMPD and Othram, the Las Vegas Metropolitan Police Department worked with Othram to reexamine DNA evidence from the crime scene in hopes that advanced DNA testing might generate new leads in the investigation. Funding assistance was generously provided by Justin Woo, founder of the non-profit organization Vegas Helps.
Othram scientists used Forensic-Grade Genome Sequencing® to build a genealogical profile from the crime scene DNA evidence. The Othram genealogy team used the profile to develop investigative leads that were returned to LVMPD. LVMPD detectives were able to confirm the identity of the suspect in Kim's sexual assault and murder as Johnny Peterson. Peterson died in January 1993. An investigation continues into the case and into Peterson's possible relationship to other crimes in the area.
Updates
Kim's killer is linked to a 1983 unsolved sex assault & murder
LVMPD Investigators announced that they have solved another cold case sex assault and murder, linked to the same suspect from the Kim Bryant case. In 1983, 22-year-old Diana Hanson was reported missing after she failed to return home on New Years Eve. Her body was found later that same day on West Spring Mountain Road. The autopsy revealed that she had been sexually assaulted.
An STR profile was developed from crime scene DNA but never matched to an assailant. Based on a tip that surfaced after the announcement of the Kim Bryant case solve, investigators went back to compare the unknown male profile in both cases and found that there was a match.
---