Summary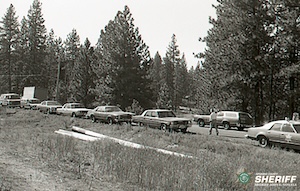 In October 1978, power company employees discovered the lifeless body of 16-year-old Krisann Baxter near power lines south of and between Whitworth Drive and Division Street in Spokane, Washington. Spokane County Sheriff's Deputies and Detectives responded to the location to begin the investigation. The scene was documented and processed for evidence with the assistance of forensic personnel. Evidence, including possible DNA samples, was collected during the investigation and autopsy. The victim was identified as Krisann Baxter, who had been reported as a runaway by her mom on September 30, 1978.
Evidentiary items were sent to the Washington State Patrol (WSP) Crime Laboratory for testing. Although 1978 DNA testing abilities were limited compared to the testing abilities of today, the samples were believed to contain DNA. However, an analysis could not be completed due to these limitations. The evidence was securely stored for future testing. In August 2006, knowing the advancement in DNA testing abilities, Major Crimes Detective D. Marske (Ret.) sent the samples back to the WSP Crime Lab for testing. The test results showed DNA consistent with Krisann Baxter and an "unknown male". The male profile was entered into CODIS (Combined DNA Indexing System), but a match was not found. In 2014, the profile was updated in CODIS and entered into the National DNA Indexing System (NDIS), where it is compared to every DNA entry in the nation on a rotating basis, but still, a match was not identified.
In 2020, Major Crimes Detective M. Drapeau again submitted the samples to the WSP Crime Lab for additional examination. In early 2021, a portion of the forensic evidence was sent to Othram's laboratory in The Woodlands, Texas for advanced DNA testing. Using Forensic-Grade Genome Sequencing®, Othram's scientists developed a comprehensive DNA profile for the unknown male contributor. Othram's in-house genealogy team identified potential relatives of the unknown male, including a direct decedent of the individual who was deceased. These leads were provided to Spokane County Sheriff Detective M. Drapeau who used this new information to conduct a follow-up investigation. Living family members of the identified relative were contacted and interviewed. Reference DNA samples were collected, and subsequent DNA profiles were developed and analyzed by Othram's scientists, resulting in additional investigative attempts to identify the unknown male contributor.
Continued investigative efforts revealed Keith D. Lindblom (born in 1949) as a possible person of interest. Detective M. Drapeau searched law enforcement databases and learned Lindblom was arrested and charged in Spokane County for the 1975 violent assault and rape of a 16-year-old female victim near the area where Krisann Baxter's body was discovered. Lindblom admitted to having intercourse with the juvenile victim and pled guilty to Assault 1st Degree in exchange for the rape charges being dropped. Lindblom stated he was innocent of the assault and only pled guilty due to the possible result of a trial. Through the continued investigation, it was learned Lindblom was released from prison on August 7, 1978, and was not in custody at the time of Krisann Baxter's murder and sexual assault.
Detective M. Drapeau also located a child of Lindblom's in Louisiana and, through the comparison of a DNA sample obtained by the Jefferson Davis Parish Sheriff's Office, found the suspect's DNA collected in 1978 showed 320 times more likelihood of a match to Lindblom and his known child than if it was compared to an unrelated individual selected at random from the U.S. population. Later, KinSNP® relationship testing performed at Othram suggested a parent/child relationship indicating that the male DNA collected in 1978 belonged to Lindblom. Lindblom's death predated the entry of DNA into the CODIS and NDIS databases, which is why a DNA match was not found.
Detective M. Drapeau consulted with the Spokane County Prosecuting Attorney's Office about the case, and with this evidence, they agreed that charges and Lindblom's arrest would have been warranted, if he was living. This almost decades-old cold case investigation will be closed with "Exceptional Circumstances" due to Lindblom's death. The suspect, Keith D. Lindblom, died in a fire on April 11, 1981, with his death certificate listing the manner of death as "accident". Although he will not face criminal charges for taking the life of and sexually assaulting Krisann Baxter, investigators with the Spokane County Sheriff's Office, along with its assisting partnering agencies, hope this brings much-needed answers to Krisann's family/friends and, at a minimum, a small amount of comfort knowing the suspect was identified through DNA testing.
The Spokane County Sheriff's Office would like to thank Othram, WSP Crime Lab, Jefferson Davis Parish Sheriff's Office, Lindblom's family members who cooperated during this investigation, and mostly, the family of the victim, Krisann Baxter, for their patience and assistance during this long and difficult journey to identify her killer.
---