Summary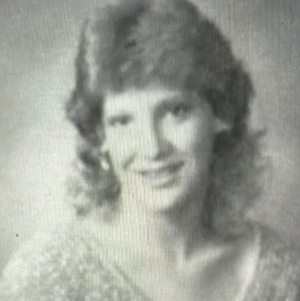 In October 1989, the body of twenty-year-old Krista Martin was found beaten to death in her Wichita, Kansas apartment located on South Osage Street. A concerned friend visited her home in the early hours of October 2, 1989, and discovered Krista. Wichita Police Department responded to the scene of the crime and began their investigation. It was determined that Krista died from blunt force trauma to the back, left side of her head. Initial investigative efforts included the collection of DNA evidence. Although DNA testing and the Combined DNA Index System (CODIS) systems were not available at the time, the DNA evidence was carefully preserved.
Despite conducting numerous interviews and analyzing the available evidence, investigators were unable to identify a suspect. Undeterred, investigators continued to scrutinize the evidence and gather new leads. DNA samples were collected from multiple individuals for comparison with the evidence from the scene, but no match was found. In 2009, DNA evidence from the crime scene was submitted to the Sedgwick County Regional Forensic Science Center, resulting in the development of a potential suspect profile. This profile was uploaded to CODIS, but it did not lead to any matches. Further DNA sampling from potential suspects also proved unsuccessful. Despite law enforcement's extensive efforts to identify the suspect, the case went cold.
In 2020, the Wichita Police Department in collaboration with the FBI, teamed with Othram to determine if advanced DNA testing could help to identify the person responsible and forensic evidence was sent to Othram's laboratory in The Woodlands, Texas for advanced DNA testing. Using Forensic-Grade Genome Sequencing®, Othram's scientists developed a comprehensive DNA profile for the unknown individual. After successfully completing the process, the DNA profile was delivered to the FBI's forensic genetic genealogy team and the FBI team performed the necessary work to generate new investigative leads.
In 2021, a team consisting of a Wichita Police Homicide Detective and an FBI Special Agent embarked on a journey to Alabama and Arkansas, collaborating with additional Federal Agents working in Maryland. Their mission was to conduct extensive interviews and gather additional evidence to break the case. Finally, in April 2023, a possible suspect, Paul Hart, was identified. It was discovered that Hart died in a traffic collision in Memphis, Tennessee in March of 1999. In June of 2023, the Wichita Police Department homicide detective and FBI Special Agent traveled to Arkansas, where they collected additional DNA samples from direct relatives of Paul Hart for further analysis.
In collaboration with the FBI, Othram and the Sedgwick County Regional Forensic Science Center, Wichita Police Department investigators were able to utilize forensic genetic genealogy techniques to confirm that Paul Hart was the suspect in the 1989 homicide of Krista Martin. Upon presenting the facts of the case to Sedgwick County District Attorney Marc Bennett, it was determined that charges would be filed if Mr. Hart were still alive. As he is deceased, this case is now considered cleared.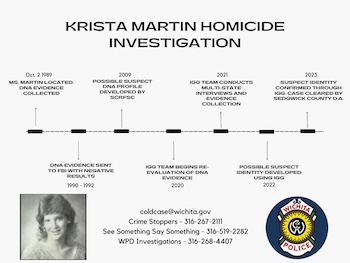 ---