Summary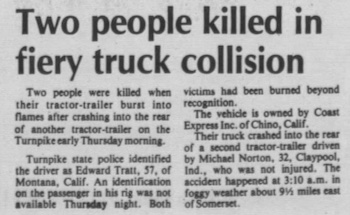 In October 1987, two occupants of a tractor-trailer were killed when the tractor-trailer crashed at mile marker 119.4 eastbound, in Stoneycreek Township, Somerset County, and burst into flames. The tractor-trailer caught fire after striking the fuel tank of another semi-trailer truck. The driver was identified as Edward Pratt, 57, of Fontana, California. The female passenger in the tractor-trailer could not be identified. Pratt was on the job and not authorized to carry a passenger. It is possible that Pratt might have picked up the woman from a nearby truck stop.
While police immediately identified the truck driver, his passenger remained unknown despite multiple attempts to identify her. Her case was entered into NamUs as UP16596 and she remained unidentified for more than three decades.
In August 2022, the Pennsylvania Turnpike Commission agreed to pay for forensic genetic genealogy DNA testing. The Pennsylvania State Police (PSP) Troop T investigators sent forensic evidence to Othram. Once Othram received the forensic evidence, the laboratory extracted DNA and used Forensic-Grade Genome Sequencing® to produce a genealogical profile. Othram's in-house genealogy team then produced investigative leads using genetic genealogy. PSP Troop T investigators worked through the leads and determined that the unknown woman was Linda Jean McClure, 26, of Indiana, Pennsylvania. To further confirm the identity, her brother submitted a DNA sample for comparison. McClure's family told investigators they last communicated with her in the late 1980s. She was not reported as missing to law enforcement.
"There were many obstacles in this case but none that deterred the outcome," said Major Michael Carroll, Commander of PSP Area II. "I commend the troopers who remained dedicated to their duty and ultimately brought closure to this case."
"The Pennsylvania Turnpike is pleased we were able to support the State Police on this cold case," said Pennsylvania Turnpike CEO Mark Compton. "We hope that this revelation provides long overdue comfort to Ms. McClure's family."
---