Summary
In January 1996, the body of an unidentified female was located by a passerby in a rural hilly area in a ravine south of the eastbound highway 60, and near Gilman Springs Road, Beaumont. It was believed the homicide occurred at the location several hours prior to her discovery. A couple driving through the area flagged down a law enforcement officer and informed him of the body off the side of the road.
The victim appeared Hispanic, American Indian, or possibly Asian. She was found on her back with a gunshot wound to her head. There was evidence of a sexual assault. The victim did not have any identification or a purse. The victim's clothing was clean and in good condition.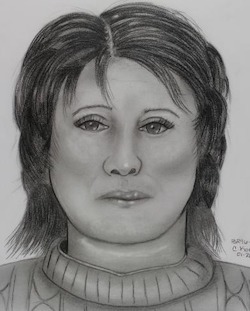 There were no investigative leads at the time of the incident. The victim's STR profile was obtained and entered into Missing and Unidentifed Persons Section (MUPS) in California. Surrounding agencies were contacted regarding possible Missing Persons matching the description of Jane Doe. Jane Doe was also entered into NamUs as UP7030. Detectives had a composite sketch of Jane Doe completed and utilized local media in an attempt to generate investigative leads. Eventually, with all leads exhausted, the case went cold.
The Riverside County Regional Cold Case Homicide Team (RCCHT) then partnered with Othram to use advanced DNA testing and forensic genetic genealogy to generate new leads in the case. Forensic DNA evidence was sent to Othram and Othram scientists used Forensic-Grade Genome Sequencing® to build a comprehensive genealogical profile. The profile was returned to law enforcement investigators who then used the profile to conduct genetic genealogy research.
Using forensic genetic genealogy and other public databases such as the National Missing and Unidentified Persons System, the RCCHT investigators located the victim's daughters. The California Department of Justice – Riverside Crime Lab, through its Missing and Unidentified Persons System, was then able to positively identify the victim as Juana Rosas-Zagal of the Los Angeles area. She was 41 years old at the time of her death.
Detectives believe there are still friends, neighbors, or colleagues of Juana who may be able to provide more information to help clarify Juana's disappearance. Anyone who knew Juana or has any further information is asked to contact detectives at 951-955-0740 or 951-955-2777.
In April 2020, the Riverside County District Attorney's Office formed the Riverside County Regional Cold Case Homicide Team to address unsolved cold case homicides. The team is comprised of District Attorney Investigators, Riverside County Sheriff's Detectives, City of Riverside Police Detectives, and members of the Riverside County Coroner's Office.
---