Summary
In April 2022, a hunter discovered human remains near a Missouri River levee in Miami, Missouri. The area of discovery is prone to flooding and the levee had been breached in 2020. Anthropologists estimated that the remains belong to a female who was in her teens or early twenties at the time of her death. Bomb-pulse radiocarbon dating suggests that the unknown woman may have been born in the early 1960s, and may have died in the mid-to-late 1970s or early 1980s. Due to the condition of the remains, the individual's height, weight, or any other physical characteristics could not be determined. No clothing, accessories, or other identifying information were discovered.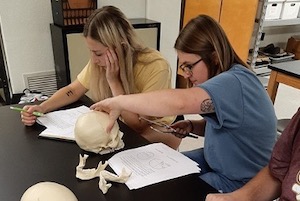 A metric and morphoscopic analysis of the skull could not determine the individual's ancestry. Under the supervision of Southeast Missouri State University (SEMO) Anthropology professor Dr. Jennifer Bengtson, SEMO Anthropology students (pictured at right) continue to apply anthropological analyses to refine their estimates of the individual's age-at-death and ancestry. In June 2022, the case was entered into the National Missing and Unidentified Persons System (NamUs) as #UP92925. Despite continuous efforts by law enforcement to identify the woman, no leads have yielded a match. With insufficient leads to investigate, the woman's identity has remained a mystery.
In 2023, the Saline County Coroner's Office and Southeast Missouri State University partnered with Othram in hopes that advanced DNA testing can help to identify the woman. Using non-destructive testing, SEMO students selected the most promising samples for advanced DNA testing and submitted these to Othram to generate new leads in the case. Anyone with information that may aid in this investigation, is asked to contact Saline County Coroner William Harlow at 660-815-0046.agency case number 22-00254 or NamUs ID #UP92925.
SEMO Anthropology has funded a portion of the costs associated with this case, but we need public support to complete funding for the case. You can help fund this DNASolves crowdfund here.
---