Summary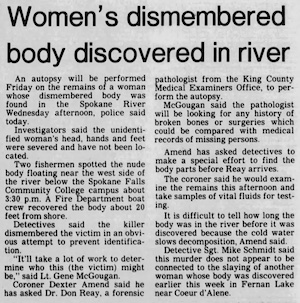 In June 1984, two fisherman discovered a nude female body along the south shore of the Spokane River. Her hands and feet were dismembered and her head was decapitated. The body was never identified and no females matching the Medical Examiner's description were reported missing at the time of the gruesome discovery.
In April of 1998 a skull was found in a vacant lot at 7th Ave and Sherman by a woman walking her dog. Investigators considered the skull may be that of Millie Doe. Again, tips and leads poured in, but none ever led to a viable identification. The case would soon go cold again. Some three years later with advanced DNA technology, the skull was found to be a match to the torso found in 1984. The DNA was uploaded to the Combined DNA Index System (CODIS) which holds DNA samples from convicted offenders, unsolved crime scene evidence, and missing persons. No CODIS hit was found. The young woman was dubbed "Millie" after SPD detective's Don Giese's daughter stated that "no one deserves to not have a name". Years, then decades would pass with few clues as to who Millie was or who killed her, despite hundreds of tips and leads.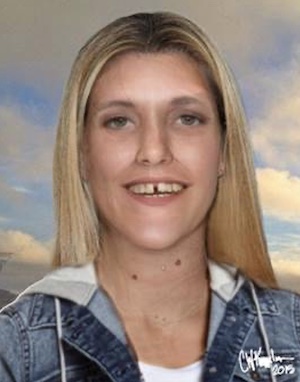 As new identification techniques developed over the decades, investigators with SPD and the Medical Examiner's Office continued to re-examine the case in search of Millie's true identity. In 2002, forensic drawings and a facial reconstruction of the skull were developed to assist in the investigation. In 2007, Millie's information was uploaded to NamUs as UP489, a national missing and identified persons system. Yet despite advances in forensic technology, the identity of the body remained unknown, and the case unsolved.
In September of 2021, SPD's Sgt. Zac Storment submitted forensic evidence from Millie's remains to Othram. The samples were retrieved from Millie's torso, which was buried in a local cemetery and exhumed by Detective Giese in January 2001. Othram is the same company that SPD worked with in solving the 1959 Candy Rogers murder case in 2021. Othram used Forensic-Grade Genome Sequencing® to build a comprehensive DNA profile for Millie Doe. Othram's in-house genealogy team used forensic genetic genealogy to provide SPD with a list of potential family members. Detectives contacted a family member in Spokane who assisted in the investigation and provided DNA. Utilizing that DNA, Othram was able to narrow the search. With assistance from the Spokane County Clerk and Washington State Department of Health, detectives were able to locate a divorce record which listed two sisters. The genealogy investigation determined only these two sisters could possibly be Millie. Which sister was not entirely clear initially, as it appeared both were deceased. However, Deputy Medicolegal Death Investigator Nicole Hamada with the Spokane County Medical Examiner's Office located the younger sister alive in the Midwest. Detectives with the Oklahoma City Police Department Cold Case Unit made contact with her. That sister provided DNA and is assisting in the investigation.
On February 17th, 2023, the identity of Millie was revealed as Ruth Belle Waymire, born in 1960, when Othram confirmed the sibling relationship using KinSNP familial reference testing. Ruth was a local graduate of Rogers High School (picture from sophomore year) and spent some time in Wenatchee as well as Spokane. At a young age, her parents divorced and Ruth, her mother, and sister moved in with a local family in Spokane. Shortly after, her mother died. The two girls went their separate ways and did not stay in contact. Ruth was never reported missing and was described to have a vagabond lifestyle. At the time of her death, Ruth would have been 24 years old and was noted to have been married. The autopsy revealed she likely had a child born a year or two before her death.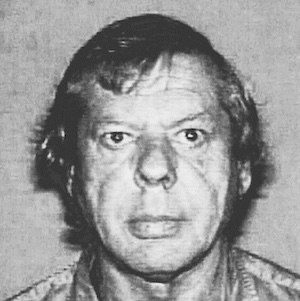 Despite SPD's ongoing investigation Ruth's killer has not been definitively identified. Her husband at the time of her death was Trampas D.L. Vaughn born in 1945. Vaughn was born in Iowa and served time in prison there before coming to the Pacific Northwest. He and Ruth were married in Wenatchee Washington. No record of a divorce between the two has been located. The identity of Ruth's child or children remains unknown as well. Vaughn died in Sutter County California in 2017. Police have not ruled him out as a suspect and no other suspects have been identified, including Ruth's first husband who currently lives in Spokane and is cooperating with the investigation.
Spokane Police and Investigators with the Medical Examiner's Office are hopeful that those who knew Ruth, her husbands, and/or perhaps a child/children born to Ruth will contact police through CRIME CHECK 509-456-2233 and help bring closure to the tragic death of a young woman dubbed Millie, until now. Rest in Peace Ruth Belle, she would have been 63 next month.
SPD and the Spokane County Medical Examiner's Office would like to thank King County Medical Examiner's Office, Dr. Christopher Casserino, Dr. Gary Bell, Chelan County Sheriff's Office, Oklahoma City Police Department, Keokuk Police Department and Ruth's relatives for sharing their DNA and family history to help solve this 39-year-old case.
---