Summary
In November 1998, partial skeletal remains were discovered by hunters lying under a natural-appearing layer of leaves off of Telegraph Road in Stafford County, Virginia. Detectives determined that the remains belonged to a Caucasian woman estimated to be twenty-five to forty-five years old. The woman is believed to have been between 5'8" to 5'11" in height during her life. While law enforcement was unable to make definitive determinations about the woman's weight and eye color, they discovered that the decedent had medium light brown hair during her life. Upon autopsy, investigators determined that the woman had a healed rib fracture, indicating potential chest trauma. Detectives estimated that a period of several months to one year had elapsed between her death and the time of her remains being discovered.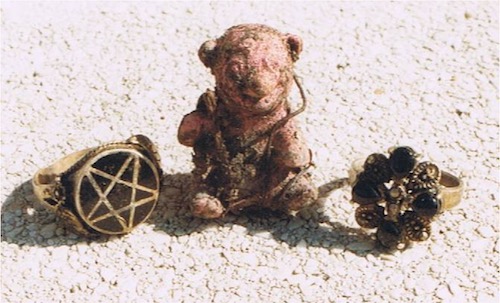 Along with the discovery of the unidentified woman's remains, several items of clothing were recovered within the vicinity of her remains including a "Washington Redskins'' shirt; a pair of black and white cuffed shorts that appeared to be camouflage or tiger patterned; two pairs of dark-colored hose, one featuring a diamond pattern and the other bearing a tag that read, "L'eggs size B;" and fragments of blue jeans with a zipper and tag reading "Made in America." Additionally, still located on the decedent's remains was a pair of size 8.5 tan or creme colored canvas high-heeled shoes with rubber soles and buckles, including a label that read "Classified," tortoiseshell sunglasses stamped with the word "China," one yellow metal earring, a black ring with a pentagram, and a gold-tone ring with onyx stones. Detectives also located a blue cigarette lighter, a long brown comb, a plastic pink bear trinket, and a small clear plastic bag decorated with shamrocks, within close proximity to the remains.
In 2009, Stafford County Sheriff's Office detectives consulted with an expert on the two rings that were discovered with the woman's remains. The size 10 ring with a pentagram design contains black emerald stone. The ring is stamped with the code "925," which generally means the ring is made of silver. There are no other markings or characteristics concerning the pentagram ring. The black onyx cluster ring is size 7 1/4. It contains onyx stones with clear chips. The ring has the "925," which generally means the ring is made of silver as well as the initials "M" and "O", which may be a manufacturer's stamp, engraved inside of the band. There are no other markings or characteristics concerning the black onyx cluster ring.
In November 2009, the case was entered into the National Missing and Unidentified Persons System (NamUs) as case number #UP6150. In 2012, the Office of the Chief Medical Examiner Central District of Virginia - Central District reviewed the case and a clay reconstruction portraying what the woman may have looked like during her life was created by forensic anthropologists and artists in collaboration with the FBI's Forensic Anthropology Services and Forensic Imaging Unit. Despite the tireless work of law enforcement, the case has since gone cold and the woman's identity remains a mystery.
In 2023, the Stafford County Sheriff's Office partnered with Othram to determine if advancement in forensic DNA testing and forensic genealogy could provide detectives with a lead which will lead to the identity of Stafford County Jane Doe. Anyone with information that could aid in this investigation is encouraged to contact the Stafford County Sheriff's Office by calling 540-658-4400 and referencing agency case C1998-30588 or NamUS ID #UP6150.
A DNASolves crowdfund has been established to cover the casework costs. Anyone can contribute here.
Contribute Now
Your contributions pay for lab supplies and research tools
---