Summary
In August 1983, a relative of Susan Tice, 45, went to her home on Grace Street to check on her, where he discovered her body in an upstairs bedroom. She had been sexually assaulted and stabbed numerous times. Four months later, in December 1983, a friend went to the home of Erin Gilmour, 22, on Hazelton Avenue and located Erin's body in a bedroom. She had also been sexually assaulted and stabbed numerous times. The women were not known to one another.
The Toronto Police Homicide and Missing Persons Unit, Cold Case section, has been actively investigating the sexual assaults and murders of these two women since 1983. In 2007, DNA obtained at the crime scenes linked the cases and investigators determined the same man was responsible for both homicides.
Toronto Police made an appeal to the media and the public in November 2008, announcing a reward for information about the homicides, and in March 2016, investigators sent out a YouTube video appealing for any information leading to the identification of a suspect.
In 2019, investigators began an investigation that included the use of forensic genetic genealogy, with the assistance of Othram. The Toronto Police Service and Othram have collaborated on multiple cases, including the 1984 sexual assault and murder of Christine Jessop.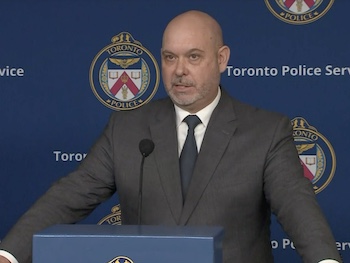 Othram used Forensic-Grade Genome Sequencing® to build a comprehensive DNA profile from the remaining trace DNA evidence in the crime. The profile was delivered to the Toronto Police Service and through the use of genetic genealogy, the TPS homicide team was able to identify a suspect in these murders, residing in Moosonee, Ontario. The investigation was led by TPS Detective Steve Smith.
On Friday November 25, 2022, Joseph George Sutherland, 61, of Moosonee, was arrested with the assistance of the O.P.P. He is charged with two counts of First Degree Murder.
"As pleased as we are to bring this individual to justice, it will never bring Erin or Susan back, and on behalf of the Toronto Police Service, I want to express my condolences to their families," said Chief James Ramer. "After 39 years of dogged police work, our investigators have brought the perpetrator of these terrible crimes to justice. The Toronto Police Service will never give up on finding people who commit crimes in our city and who show a flagrant disregard for people's lives."
Toronto Police would like to thank members of our Homicide & Missing Persons Unit, and in particular, our Cold Case team and Forensic Identification team, past and present, for their commitment to bringing this person to justice. TPS would also like to acknowledge the O.P.P. for assisting with the investigation.