Summary
In early 1991, hunters came upon the skeletal remains of a young woman near Ward Bayou in Vancleave, Mississippi. Investigators initially determined that the remains were likely from a Caucasian woman in her late 20s. It was not clear exactly when she had died but investigators estimated that she might have died up to three years before being located. The death was ruled a homicide, however there were few clues to her identity. Later the same year, a clay model was developed based on the young woman's skull to help generate leads to her identity. Law enforcement worked diligently with the news media to solicit clues from the public, but the case eventually went cold as no one recognized the woman. The case was entered into NamUs as UP10335.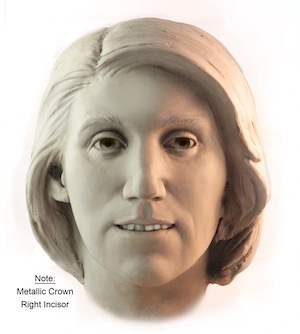 Decades later in 2012, Pascagoula Police Investigator Darren Versiga, former Jackson County Coroner Vickie Broadus, and sheriff's investigators began re-examining cold cases in the area. As part of this effort, they submitted skeletal remains for Vancleave Jane Doe to NamUs. An STR profile was developed but did not match in any database. The remains were then transferred to the Mississippi State Crime Laboratory.
In 2019, the Mississippi State Crime Laboratory teamed up with Othram to leverage advanced DNA testing to help produce leads that might lead to the identity of Vancleave Jane Doe or a relative of hers. Othram received skeletal remains and used a combination of proprietary human enrichment steps and Forensic-Grade Genome Sequencing® to build a genealogical profile for the unknown woman. The work was funded by the Mississippi State Crime Laboratory and a generous donation by genetic genealogist and Mississippi native Carla Davis.
The profile built at Othram revealed a genetic admixture commonly found in populations in Pennsylvania. Genealogical search produced a handful of genetic relatives, all of which were more distant than second cousins. In March 2021, the Othram genealogy team provided leads to Investigator Matthew Hoggatt at the Jackson County Sheriff's Office. Working with a team of investigators, contact was made with a potential brother of the unknown woman. The brother, currently living in Pennsylvania, confirmed he had a sister named Kimberly Ann Funk, who would also go by the nickname "Star". She had been missing since 1990. Jackson County investigators worked with local law enforcement in Pennsylvania to test the familial relationship of the potential brother to the unknown woman and the follow-up DNA test then confirmed that Vancleave Jane Doe was, in fact, Kimberly Ann Funk, born February 7, 1960, and originally from Sharon, Pennsylvania.
With help from Othram, we have been able to solve cases that have remained unsolved for decades. The investigative research provided by Othram has allowed us to identify victims as well as criminals, and bring closure to families who have waited years for answers.
Investigators have since found that Kimberly moved to Mississippi between April and June in 1990. She traveled there from the Houston, Texas area. Efforts are now underway to piece together a timeline of Kimberly's life between April, 1990, and the time she was found in February, 1991. Anyone with information on this case is encouraged to contact the Jackson County Sheriff's Office at 228-769-3063 or Mississippi Coast Crime Stoppers.
---