Summary
In the early morning of November 1st, 1980, a truck driver traveling past the Sam Houston National Forest, came upon the body of a young girl lying face down, in a grassy area adjacent to Interstate Highway 45. The young girl was found without clothes and there were few items recovered at the crime scene. There was a necklace found around her neck, a pair of red leather sandals, and some pantyhose that were likely used to strangle her. A forensic investigation revealed that she was viciously sexually assaulted, beaten, and then strangled -- likely only hours before her discovery.
News of the brutal murder traveled swiftly and many people came forward with stories of a teenager that was seen the day before, in the area, asking for directions to the Ellis prison unit. She had been described as wearing jeans and a yellow shirt with large pockets. Others reported that she might have been hitchhiking near a truck stop and looking to meet up with a friend. In spite of the many accounts and sightings, no one was able to identify who the young girl was. Weeks after her discovery and with all leads exhausted, she was buried at the Adickes Addition at Oakwood Cemetery, in January 1981. Although no one knew her name, she was never forgotten, and she became known as Walker County Jane Doe.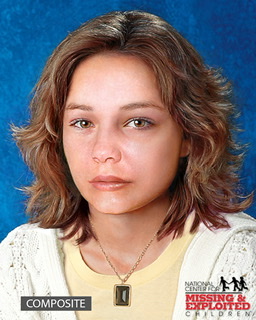 In 1999, the young girl's body was exhumed to perform updated forensic testing, including DNA testing that included STR and mtDNA markers; however there were no matches found in the forensic databases. There were multiple forensic facial reconstructions prepared, including sketches by the National Center for Missing and Exploited Children in 2012 and then again in 2015, but none of these ever yielded productive leads, and the case remained cold. Her case was entered into NamUs as UP4630. In 2015, the case was officially reopened by the Walker County Sheriff's Office. Walker County Detective Tom Bean has tirelessly worked the case since then, and in the course of the investigation, dozens of missing girls have been excluded through DNA testing as being Walker County Jane Doe.
In 2020, the Walker County Sheriff's Office contracted Othram to employ advanced DNA testing to help generate new leads in the case. A multi-agency team consisting of the Walker County Sheriff's Office, the Houston FBI office, the Texas Rangers, and the National Center for Missing and Exploited Children worked together to identify suitable evidence that might be used to identify Walker County Jane Doe. Early attempts to derive suitable DNA extract from skeletal remains disinterred in 1999 were unsuccessful.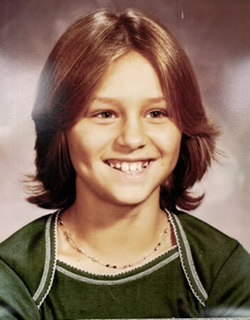 Ultimately, formalin-fixed paraffin-embedded tissue was key to enabling her identification. This material was sent to Othram's laboratory, where Othram scientists used a proprietary DNA extraction and damage remediation approach to develop enough suitable DNA to proceed with DNA testing. Othram used Forensic-Grade Genome Sequencing® to develop a comprehensive genealogical profile from the tissue. The tissue had been formalin-fixed and this preservation process had chemically damaged the DNA that was recovered. Multiple rounds of testing were required to collect enough information to build a suitable DNA profile. The Othram genealogy team then used the DNA profile to perform a genealogical research, and returned investigative leads to Detective Tom Bean.
Empowered by fresh leads, Detective Tom Bean located candidate family members of Walker County Jane Doe and through discussion with the family determined a possible identity of the young girl. DNA swabs of a close relative were collected and sent to Othram and a government lab. Othram used KinSNP™ testing to confirm that familial relationship and this relationship was secondarily confirmed again by the government lab.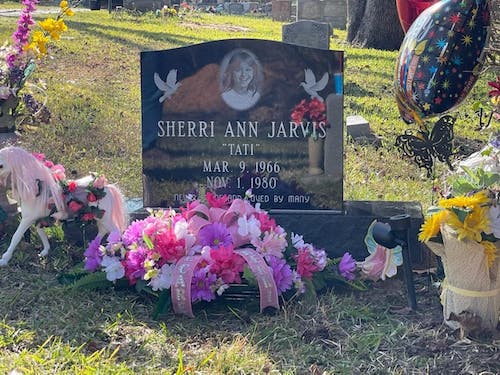 After 40 years, Walker County Jane Doe was confirmed to be 14-year old Sherri Ann Jarvis, who went missing from Stillwater, Minnesota in the early part of 1980. The Walker County Sheriff's Office is continuing its investigation into the circumstances of Sherri's disappearance and brutal murder. They hope to identify the person or persons responsible for her death. If you know anything that might aid the investigation, you are encouraged to contact the Walker County Sheriff's Office at 936-435-2400.
Updates
Sherri Ann Jarvis receives an updated headstone
Today, on her birthday, the final resting place of Sherri Ann Jarvis at last bears her name. Visit the article page to see the new headstone.
---