Summary
In April 1999, a newborn baby was found dead in a plastic grocery bag hanging on a fence behind a garage in Warren, Michigan. Her umbilical cord was still attached. The Warren Police Department determined that she was likely Cacausian with black hair. The baby was full-term. According to the local medical examiner, the baby died of asphyxiation up to five days before being discovered. Investigators suspect that the infant was a homicide victim.
According to police, the remains were found at the 5000 block of Lyons Circle South in Warren. Warren is the third largest city in Michigan and is the largest suburb in the Metro Detroit area. The Warren Police Department has investigated leads over the past 22 years since the discovery of the infant, but the identity of the infant remains unknown. With no leads to her identity, the infant became known as "Baby Joan Doe." She is buried at Clinton Grove Cemetery in Clinton Township, Michigan. To this day, details surrounding the case are not clear and in spite of pursuing all available leads, Baby Joan's true name remains unknown.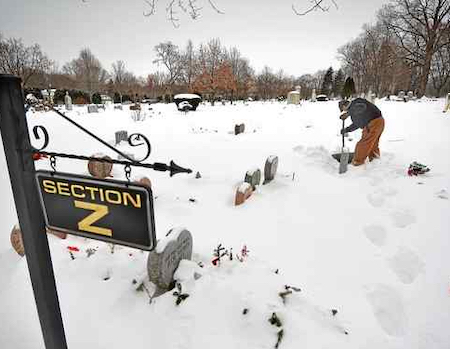 According to an article published in 2016 about Baby Joan's case, writer Norb Franz of The Macomb Daily wrote:
At her burial in 1999, a dozen people, including Clinton Grove Cemetery employees, stood and watched solemnly to ensure Baby Joan Doe, a child none of them had ever met, had a proper funeral.
Amid the graves of dozens of children and assorted headstones bearing dates with sadly far too little time in between – or only a single date -- she was laid to rest in the Babyland section at Section Z of the cemetery. Clinton Grove donated the plot.
Two years later, a stuffed toy rabbit, a stuffed white teddy bear, a ceramic angel, a 2-inch glass angel and a pinwheel adorned her grave. Someone planted a hosta.
The grave marker, donated by Clinton Grove Granite, bears the name given to her in anonymity and the year "1999." Currently, an empty vase and a small, solar-powered ground light are pressed into the ground inches away.
Head groundskeeper Melvin Latrouna, now in his 31st year at Clinton Grove, vividly remembers the burial of Baby Joan and the reported circumstances of the gruesome discovery of her body.
'Somebody puts out flowers for that baby every year,' Latrouna said.
In 2022, the Warren Police Department teamed with Othram to determine if advanced DNA testing could help establish an identity for the newborn or to at least identify a nearest living relative. The investigation continues as Othram begins to build a comprehensive genealogical profile for Baby Joan.
Anyone with information regarding this case is encouraged to contact Detective Corporal Jim Twardesky of the Warren Police Department by calling 586-574-4700 and referencing agency case #99-21968. A DNASolves fund has been created to raise funds for the remaining casework costs. This case is logged in NamUs as #UP88243.
---