Summary
On May 13, 1997, an archeologist from the University of Illinois was working a construction landfill in Rockdale, Illinois when he located a human bone. Further investigation by the Will County Sheriff CSI resulted in numerous human skeletal remains, most of which had been broken and were at various layers of the fill, but all within the construction debris. The debris was mainly brick, stone and wood. The debris came from a building in Joliet, IL known as the Rust Craft building, a square block long and wide, three stories tall with a full basement. The building housed various companies since it opened in 1907, including a card making company with large printing presses. From 1986 to 1992 the building was abandoned.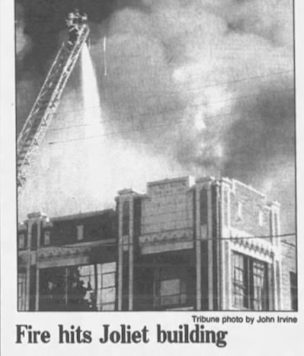 The abandoned factory suffered a fire in 1992 which burned for two days, and ultimately resulted in its demolition. Prior to its demolition, the building was known to be frequented by the local homeless population and was known to be a high crime area. Following the demolition, excess debris was removed from the site, while the rest was used to fill the building's basement.
In 1995, the building's remnants were excavated and relocated to a second location in Rockdale. It was there that the bones would later be discovered, intermingled with brick, stone, and other building material. Following the discovery of the bones, pathologists determined that they had been disturbed twice postmortem prior to their discovery, indicating that they were present at the original factory location.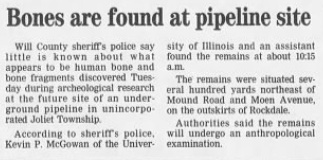 Only partial skeletal remains were recovered, yet pathologists were still able to estimate a few things about the unknown woman. She was determined to be between the ages of 15 and 24 years old, and to have stood between 5' and 5'10 tall. No conclusive determinations were made about the woman's weight, hair color, or eye color. The woman's cause of death could also not be determined, although investigators believe that she died sometime after 1986 but prior to the Rust Craft building's demolition.
In 2009 the Will County Coroner Patrick K. O'Neil formed a cold case unit which began to work to identify this case and several others. Over the years forensic anthropology studies were completed, DNA was developed and entered into the national missing and unidentified persons databases (NamUs) as UP5206 and the profile was searched in CODIS. Facial reconstruction was completed by a specialized FBI unit. As a result, numerus leads were developed but ultimately eliminated.
After Laurie Summers was elected Coroner in 2020, she continued to support the work of the cold case unit, encouraging genomic research, and agreeing to fund that aspect of these investigations. Since that time the cold case unit comprised of Investigators Gene Sullivan and Joseph Piper, both retired Law Enforcement detectives have solved 5 cold cases dating back to 1974.
In 2022, the Will County Coroner's Office partnered with Othram with the goal of using advanced forensic DNA testing to identify the woman or a close relative. Will County Coroner's office contributed some of the funding to support advanced DNA testing and a DNASolves crowdfund was setup to fund the rest. The case was particularly challenging in that advanced DNA testing had failed in previous attempts with the remains.
Othram developed a suitable DNA extract from the skeletal remains and used Forensic-Grade Genome Sequencing® to build a comprehensive genealogical profile. Othram's in-house genetic genealogy team performed the genealogical research necessary to produce an investigative lead for law enforcement.
Once the leads were returned to law enforcement, cold case investigators interviewed several people in Illinois, Texas, and California. Othram narrowed the search through additional DNA profiling and genealogy studies to one person in California. Their investigation indicated this person could be a brother of the unidentified woman. Cold case Investigators from the coroner's office interviewed this man and determined that he has a sister that he had last had contact with in 1984 and was never seen again. Subsequent KinSNP® testing indicated this man and the unidentified are related as half-sibling.
The unidentified is now identified as Marie R O'Brien from Aurora, Illinois. Cause of death is undetermined. Additional investigations continue by both the Will County Coroner and the Will County Sheriff's cold case investigators.
If anyone has information that could aid this investigation, they are encouraged to contact the Will County Coroner's Office at 815-727-8455 and reference case number UN 97-01, Will County Sheriff's Office agency number 97-112-104 or NamUs ID #UP5206.
---