Summary
In May 1997, skeletal fragments were discovered in the rubbish pile from the landmark Rust Craft Greeting Card Company building in Joliet, Illinois. The building, which stood for almost a century prior to its demolition, was a square block long and wide, and three stories tall with a full basement.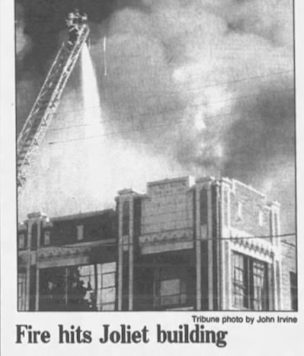 The abandoned factory suffered a fire in 1992 which burned for two days, and ultimately resulted in its demolition. Prior to its demolition, the building was known to be frequented by the local homeless population and was known to be a high crime area. Following the demolition, excess debris was removed from the site, while the rest was used to fill the building's basement.
In 1995, the building's remnants were excavated and relocated to a second location in Rockdale. It was there that the bones would later be discovered, intermingled with brick, stone, and other building material. Following the discovery of the bones, pathologists determined that they had been disturbed twice postmortem prior to their discovery, indicating that they were present at the original factory location.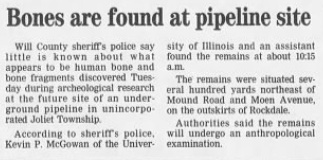 Only partial skeletal remains were recovered, yet pathologists were still able to estimate a few things about the unknown woman. She was determined to be between the ages of 15 and 24 years old, and to have stood between 5' and 5'10 tall. No conclusive determinations were made about the woman's weight, hair color, or eye color. The woman's cause of death could also not be determined, although investigators believe that she died sometime after 1986 but prior to the Rust Craft building's demolition.
For decades, investigators diligently pursued various leads about the woman's identity. Stable Isotope Analysis conducted by the Smithsonian Conservation Institute indicated that she may have come from the Northern Rockies region of the United States or Canada, ranging from the Dakotas to Washington State.
Specimens of the bones were sent to the University of North Texas Center for Human Identification, where forensic anthropologists made the determination about the woman's age and geographic ancestry. In 2009, the case was entered into the National Missing and Unidentified Persons System (NamUs) as #UP5206.
Despite exhaustive efforts, investigators were unable to develop a facial image or take further steps to establish the woman's identity. With few leads for investigators to pursue, the case eventually went cold. In 2022, the Will County Coroner's Office partnered with Othram with the goal of using advanced forensic DNA testing to identify the woman or a close relative.
If anyone has information that could aid this investigation, they are encouraged to contact the Will County Coroner's Office at 815-727-8455 and reference case number UN 97-01, Will County Sheriff's Office agency number 97-112-104 or NamUs ID #UP5206. Will County Coroner's office has contributed some of the funding to support advanced DNA testing and a DNASolves crowdfund has been created to raise funds for the remaining casework costs. Anyone can contribute here.
---