Summary
A Las Vegas school teacher was looking for rocks at Sand Wash Creek in Congress, Arizona on July 31, 1960 only to discover the partially buried remains of a young child. At the scene, investigators documented a set of adult shoe prints as well as two additional locations of disturbed soil -- potentially failed burial spots. Pathologists determined that the child had been burned and was deceased for 1-2 weeks prior to discovery. Due to the higher temperatures during the summer time, the high decomposition rate of the remains made it difficult to determine a cause of death. Additionally, the pathologists found no sign of skeletal trauma, indicating that the child had no new or healed bone fractures at any point. Due to the suspicious nature of the case, her death has been ruled a homicide.
Pathologists determined that the child was likely a caucasian female. Her original age estimate fell between 2-9 years old, though the current age range is documented as being likely 3-6 years. She weighed around 55 pounds and was around 3'5" tall at her time of death. Her hair was described as brown with a potentially artificial auburn tint. She had a full set of baby teeth which were in pristine condition. The child was found wearing white shorts, a checkered blouse, and male adult flip-flops that had been cut to fit her foot size and were tightened with brown leather straps; her fingernails and toenails had been painted red.
The case gained local and national news coverage but her identity remained undiscovered, leading her to be called "Little Miss Nobody". The community became deeply affected by the case and fundraised to give the child a proper funeral and service in 1960, to which many attended. The original law enforcement team did pursue multiple possible leads that matched the child's description but none were confirmed. The case remained stagnant until more than half century later when her body was exhumed in order to obtain a DNA sample.
UNTHSC did initial DNA testing of the skeletal evidence between 2016 and 2018 and was able to develop an mtDNA profile. Later, they were able to also build an STR profile that was uploaded to CODIS but the CODIS profile did not match anyone. The case was entered into NamUs as UP10741. In 2018, NamUs worked to identify a possible sibling and get a reference DNA swap. The comparison was inconclusive and the case stalled again.
In 2021, the Yavapai County Sheriff's Office continued their pursuit for an identity by partnering with Othram. In December 2021, Othram took custody of skeletal remains and Othram scientists used Forensic-Grade Genome Sequencing to build a genealogical DNA profile. Despite substantial degradation and extreme non-human DNA burden, a high-quality DNA profile was obtained from the skeletal remains.
Using this DNA profile, Othram genealogists were able to locate a potential biological sibling. Othram used KinSNP rapid familial testing to confirm a biological sibling relationship between Roberto Juan Gallegos, Sharon's brother, and the remains.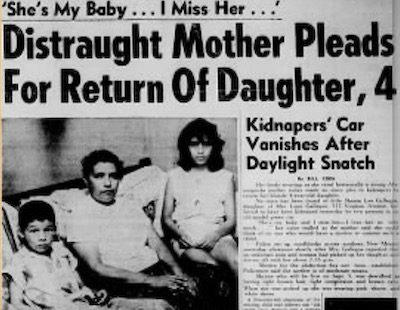 Sharon Lee Gallegos was 4 years old when she was abducted from her grandmother's front yard in Alamogordo, NM on July 21st, 1960. The Alamogordo Police Department and the FBI searched for the little girl but were unable to find her or the suspects who were said to be in a 1951 or 1952 dark green Plymouth. Though Yavapai County Sheriff's Office and the Alamogordo Police Department in 1960 initially suspected the remains found in the desert to possibly be that of Sharon Gallegos, technology and science was not sophisticated enough at the time to make the identification. Initial thoughts on the age of the remains, the clothing she was found in, and a mismatched footprint, at the time ruled out the abducted child from New Mexico.
Othram is grateful to donors at DNASolves.com whose generous donations helped cover the cost of DNA testing.
31 July 1960
Remains found at Sand Wash Creek
December 2021
Yavapai County Sheriff's Office partners with Othram
February 2022
Othram confirms identity of Sharon Gallegos
15 March 2022
Sharon's identity is announced by Yavapai County Sheriff's Office
31 July 1960
Remains found at Sand Wash Creek
December 2021
Yavapai County Sheriff's Office partners with Othram
February 2022
Othram confirms identity of Sharon Gallegos
15 March 2022
Sharon's identity is announced by Yavapai County Sheriff's Office
---