Summary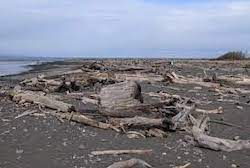 In December 2021, a shoe containing a foot was found near the mouth of the Elwha River in Port Angeles, Washington. The discovery was made by an individual who reported what he had observed to the Clallam County Sheriff's Office. Investigators activated Search and Rescue in the area and recovered the shoe several hours later. Investigators observed that the shoe's label was a woman's size 8 New Balance brand shoe.
Due to the limited recovery of the woman's remains, investigators were unable to make a definitive determination about the woman's age, ethnicity, height, weight, hair color, or eye color during her life. Since the discovery of the unknown woman's remains, investigators diligently pursued various leads about her identity. Despite efforts, the woman's identity remained a mystery. With few leads for investigators to pursue, the case eventually went cold.
In 2022, the Clallam County Sheriff's Office partnered with Othram to determine if advanced forensic DNA testing could help establish an identity for the woman or a close relative. A DNASolves crowdfund was established to cover the casework costs. We are grateful to the community for the support on this case. Othram built a comprehensive genealogical profile and then Othram's in-house genealogy team used the profile in genealogical research to produce investigative leads that were returned to the agency.
The Clallam County Sheriff's Office Criminal Investigations Bureau received information from Othram and the Sheriff's Detectives contacted one of the surviving family members who voluntarily provided a DNA sample which was sent to Othram Labs for comparison. Shortly thereafter, Othram confirmed that the foot belonged to a resident of Sequim, Jerilyn L. Smith, who was reported missing on January 7, 2018. Jerilyn was 68 years old at the time of her disappearance.
Surviving family members were grateful to the Clallam County Sheriff's Office, Othram Labs, and the citizens who generously crowd-funded the familial DNA work performed by Othram. The Clallam County Sheriff's Office would also like to thank all those who participated in funding the DNA research on this case that ultimately helped a family with having some assemblance of closure during the grieved loss of their loved one.
Anyone with information that could aid in this investigation is encouraged to contact the Clallam County Sheriff's Office by calling the Tip Line at 360-417-2540 and referencing agency case 2021-00023819.
---