Summary
In March 1980, the New York State Police investigated the discovery of a victim left headless and handless in a travel trunk near a dumpster on the grounds of the Hudson View Apartment Complex in Fishkill, NY.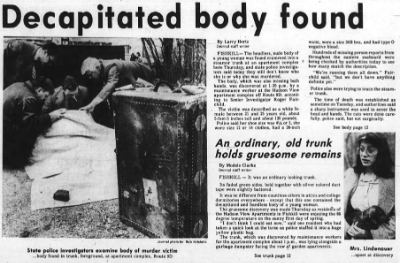 Investigators determined that the unknown woman was likely in her mid-twenties, approximately 5'6" in height, and weighed approximately 135 pounds. They also determined that her hair color was dark brown. It is believed that the woman had been murdered only days before her discovery. The body was initially examined at the scene by the Dutchess County Medical Examiner, before being removed to Vassar Hospital in Poughkeepsie where an autopsy was performed. In 2011, the case was entered into the National Missing and Unidentified Persons System (NamUs) as UP8374. Over the last four decades, investigators followed hundreds of leads trying to identify the victim and the circumstances surrounding her death. Technological and forensic limitations of the time, however, prevented any positive identification of the victim.
In 2022, the FBI provided forensic evidence to Othram. Othram scientists used Forensic-Grade Genome Sequencing® to build a comprehensive DNA profile for the murdered woman. This profile was delivered back to law enforcement so that it could be used in a genealogical search. The FBI investigative team conducted research resulting from the DNA profile created by Othram and provided an investigative lead to the New York State Police. On May 26, 2022, the New York State Police Troop K Major Crimes Unit was able to identify the victim based on that lead.
The victim, now identified as Anne L. Papalardo-Blake, of New York City, who was 44 years old at the time of her death was reported missing to the New York City Police Department in Manhattan. She was last seen on March 18, 1980, at approximately 6:00 p.m. leaving her place of work, Vidal Sassoon, at 160 5th Avenue, New York, NY, where she was employed as a receptionist.
As investigators continue to piece together the events leading to her death, we ask anyone with information related to this case to please contact the New York State Police at 845-677-7300. Please Reference case # 3020974.
The services provided by Othram for this case were funded by the National Missing and Unidentified Persons System (NamUs). NamUs is a national clearinghouse funded and administered by the National Institute of Justice and managed through a contract with RTI International that assists the criminal justice community with the investigation and resolution of missing, unidentified, and unclaimed persons cases across the United States and its territories. We are grateful to RTI, NamUs, and the NIJ for the support.
---