Summary
In September 2001, the skeletal remains of a female homicide victim were found near a drainage ditch in the 1500 block of Lincoln Circle, in Mclean, Virginia. According to NamUs, she was found in a wooded area behind an apartment complex. The skeletal remains were spread around a slope and a water drainage area.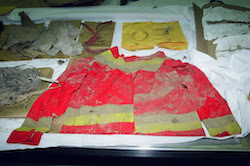 Initially the woman was thought to be African American, with partially dyed red hair, standing about 5'5" feet tall. She was believed to be between 15 and 20 years of age, at the time of her death. Her death has been classified as a homicide due to evidence of a gunshot wound on her skull. Investigators believe she could have died months to a year prior to her discovery. Although jewelry and clothing were found at the scene, presumed to belong to the victim, there were no identifying documents or clues to her identity. With few leads to go on, the case eventually went cold.
In 2022, Fairfax County Police Department teamed with Othram to use advanced DNA testing to help generate new investigative leads that could lead to the female victim's identity or at least to the identity of a close relative. Forensic evidence was sent to Othram's lab and Forensic-Grade Genome Sequencing® was used to develop a comprehensive genealogical profile. Funding for this testing and identification process was provided entirely by anonymous donors through the DNASolves platform.
Othram's in-house genealogy team developed investigative leads that were returned to Fairfax County detectives. The detectives tracked down a possible relative and then confirmed the identity of the murdered woman as Patricia Agnes Gildawie, also known as "Choubi". Her sister shared more details of Gildawie's life.
Identifying this young woman solves a mystery that has been more than 47 years in the making.
Detectives learned Gildawie was born in France in February 1958 and came to the United States when she was eight months old. In the early 1970s, Gildawie moved to the City of Fairfax. Prior to her disappearance at age 17, Gildawie was dating an older man. He worked at an upholstery store, near the intersection of Church Street and Lawyers Road in Vienna. She was known to drive a white Cadillac Eldorado with red interior. Gildawie was last seen on February 8, 1975. Detectives are continuing to investigate the homicide with the new information provided by the family.
"Identifying this young woman solves a mystery that has been more than 47 years in the making," said Ed O'Carroll, Bureau Commander of Major Crimes and Cyber and Forensics. "Our community should take comfort in knowing that our detectives never stop working these cases. Advancements in technology have given my Cold Case detectives an opportunity to pursue fresh leads and bring some relief to families that have been long suffering with the unknown."
Anyone with information about this case is asked to submit tips through Fairfax County Crime Solvers. Tips can be submitted anonymously through Crime Solvers by phone – 1-866-411-TIPS 866-411-8477). Othram would like to thank the DNASolves community and everyone that helped fund the costs of performing the advanced DNA testing and genetic genealogy research that led to a break in the case.
---