Summary
On January 23, 1971, the remains of an unidentified woman were found in a desert area next to a dirt road two miles east of US Highway 93 on Hackberry Road. According to investigators, the remains were discovered inside of a white canvas sack that had been tied with a white cotton rope. The sack had the words "Deer-Pak Ames Harris Neville Co." printed in green. The woman was wearing a multi-colored long-sleeve blouse, a black cardigan sweater and burnt orange stretch pants with a label that read "Symphony. It's what's happening." The cause of the woman's death has been ruled a homicide.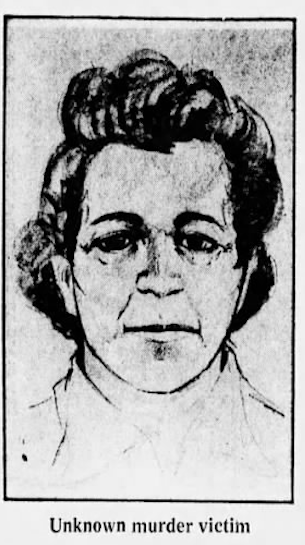 Investigators determined that the unknown Caucasian woman was approximately 40 years old and stood 5' 4" tall. Her weight was estimated to be between 125 and 140 pounds, and her hair was curly and brown. No determinations have been made regarding the woman's eye color.
Over the past 51 years since the discovery of the woman's remains, investigators have pursued an expansive number of leads into determining her identity. Early in the investigation, her fingerprints were sent to the FBI in Washington and a report of her expensive dental work was distributed in prominent dental magazines. Those records were checked against thousands of patient files. A police artist sketched a portrait. Local hotels, motels, and stores were checked. Missing reports from across Arizona, California, Nevada and Utah were all pursued. In November, 2021, the case was registered in NamUs as #UP85987. None of these efforts led investigators to determine the woman's identity, and the case went cold.
In 2022, the Mohave County Sheriff's Office partnered with Othram to determine if advanced DNA testing could help establish an identity for the woman or a close relative. The investigation continues as Othram begins to build a comprehensive genealogical profile for the woman.
Anyone with information regarding the identity of this woman or the incident is encouraged to contact the Mohave County Sheriff's Office SIU at 928-753-0753 ext. 4408, or by calling their toll free number at 800-522-4312 and referencing case DR#71-0383. A DNASolves fund has been created to cover the costs of testing for this case and anyone can contribute here.
---