Summary
In April 1995, the remains of a young woman were discovered in a shallow grave by a group of children. The discovery was made behind a vacant house at 380 Atwood Street in Atlanta, Georgia. Investigators suspect that the woman died only days before the discovery, but were unable to determine the woman's cause of death. They suspect that she may have died of an overdose or natural causes, as the house that she was discovered behind had been used for the manufacture of illicit narcotics. Investigators suspect that she may have been from the Adamsville area in Atlanta, and that she reportedly frequented the Ashby, Dill and Beecher Street areas.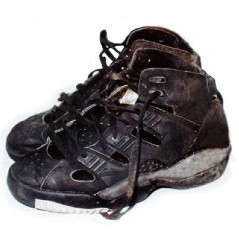 Investigators believe that the unknown woman went by the name "Wanda" in the days and weeks prior to her death. They also determined that she was likely 5'7" tall and weighed 140 pounds at the time of her death. Additionally, they noted that she had brown eyes and black hair, which she wore in tight cornrows. She also had a mole on her right foot, a noticeable gap between her upper front teeth, and had her ears single pierced. At the time of the discovery, the young woman was wearing a light blue button-up short-sleeve shirt, a pair of faded Bugle Boy jeans with an elastic waistband and a draw string, and a pair of size 6.5 black Adidas Dynaprene sneakers, as well as multi-color underwear with a Tweety Bird manufacturer's label.
For almost three decades, law enforcement have diligently pursued various leads about the woman's identity. In November 2007, her case was entered into the National Missing and Unidentified Persons System (NamUs) as #UP650. Despite the exhaustive efforts of law enforcement, the woman's identity has remained a mystery. With few leads for investigators to pursue, the case eventually went cold.
In 2022, the Fulton County Medical Examiner's Office partnered with Othram to determine if advanced forensic DNA testing could help establish an identity for the young woman or a close relative. Anyone with information that could aid in this investigation is encouraged to contact the Fulton County Medical Examiner's Office by calling 404-613-4400 and referencing agency case 95-0716.
A DNASolves fund has been created to have contributed to the costs of DNA testing and genealogical research and anyone can contribute here.
---