Summary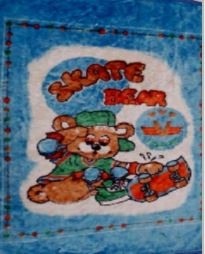 In September 2002, a newborn was found deceased outside of L&M Auto Repair in Brighton, Colorado. Employees had just started arriving at work that morning when one staff member spotted something under a bush. The newborn had been wrapped in a blue blanket with the words "Skate Bear" and a corresponding graphic. There were not other clues left that at the scene that indicated anything about the newborn or the circumstances of his death.
Investigators reported the biological sex of the newborn as male and describe the baby as having dark hair. Ancestry was estimated to be potentially white, Hispanic, and/or Italian. The newborn weighed between 6.5-7 lbs. and was 21 inches long at his time of death. Pathologists determined that the infant had been born healthy around 10pm-2am the prior evening but they were not able to definitely establish a cause of death. Law enforcement investigators pursued all available investigative leads and tips, in an attempt to identify the newborn, but all efforts were unsuccessful and the case went cold.
In 2021, the Weld County Sheriff's Office teamed with Othram to determine if advanced DNA testing could help establish an identity for newborn or to at least identify a nearest living relative. The investigation continues as Othram begins to build a comprehensive genealogical profile for the newborn. Anyone with information regarding this case is encouraged to contact Detective Byron Kastilahn at the Weld County Sheriff's Office by calling 970-356-4015 and referencing agency case # WC02-4535. The Sheriff's office has contributed to the costs of DNA testing and genealogical research, while a DNASolves Crowfund has been created to raises funds for the remaining casework costs. This case is logged in NamUs as #UP10386.
---