Summary
In September 1987, a grandfather and his grandson were squirrel hunting in the woods off the 2200-block of Liberty Road, near Mount Hope Cemetery. Sadly, their bonding time together was cut short by the discovery of a human skull and other bones laying just on (or slightly below) the surface. Youngstown Police Department was called to the scene and thus began an investigation into identity of the remains.
Youngstown Police investigators immediately began attempts to identify the unknown man. The Youngstown State University Anthropology Department helped in the identification of what was unearthed. By all accounts of the remains collected, the individual was likely an African-American male between 30 & 44 years of age, who had perhaps been in those woods for 3-5 years. No further evidence was available and no leads came to fruition.
In August of 2021, a young woman called the Youngstown Police Department to speak to investigators. She had been a student of anthropology in the early 2000s and remembered seeing the skull and bones in the laboratory. A little older now, and with children of her own, this young woman could not get the thought out of her mind that Youngstown John Doe was someone's child. She wanted to ensure that Youngstown PD continued the investigation and did everything within their power to bring it to conclusion. And with that phone call, a case that had been cold for three decades was now warm again.
Det/Sgt David P. Sweeney took lead on the case. Soon, however, the team would grow larger and greater in scope than anyone would have imagined. In the latter part of 2021, the remains were sent to BCI in order to attempt the extraction of DNA and to potentially enter Youngstown John Doe into NamUs, the National Missing & Unidentified Persons System as UP85707. Some DNA was initially able to be extracted from the teeth for a CODIS profile and BCI began work on facial reconstruction of the skull.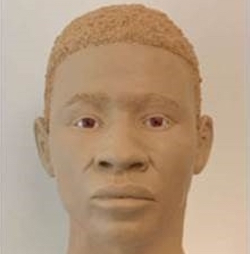 In August 2022, Youngstown PD & the Ohio AG's Bureau of Criminal Investigation held a joint press conference in the YPD Roll Call Room to reveal the facial reconstruction of Youngstown John Doe. A request was made for information from anyone that might recognize the facial reconstruction of the unknown man. Det/Sgt Sweeney additionally went around the City distributing fliers and asking for tips. The decision was then made to send some of the discovered long bones to Othram to see if they could generate new leads in the investigation.
In January 2023 of this year, Youngstown PD received communication from the Othram team that funding was available for the case via The Porchlight Project. The Porchlight Project began in 2018 and is a privately funded organization which assists agencies, specifically in Ohio, with advanced DNA testing and genetic genealogy. As it turns out, Othram works with Porchlight on Ohio cold cases such the Youngstown John Doe case. We are very grateful for The Porchlight Project's support for this case.
Othram was able to successfully develop a DNA extract from the skeletal remains and used Forensic-Grade Genome Sequencing® to build a comprehensive DNA profile suitable for genealogical analysis. In addition to providing funding, The Porchlight Project also performed the genetic genealogy research necessary to generate investigative leads in the case. The leads were returned to law enforcement and further research by Porchlight, Det/Sgt Sweeney, the Mahoning County Coroner's Office and BCI affirmed what the genetic genealogy research uncovered: a conclusive and definitive identification of Youngstown John Doe.
It was 17,000 days ago to this day, or 46 years, 6 months, and 15 days, that a missing report was filed for this unidentified man. Robert Earl Sanders was reported missing August 13th, 1976. Although his remains were found in 1987, they were not identified as belonging to him until now.
Anyone with information on the whereabouts of a missing person is asked to contact the Youngstown Police Department or to call Crime Stoppers so we can help bring a sense of closure to family and friends. Later on, Det/Sgt Sweeney will address some of the missing persons cases he is still working on.
---