Summary
In July 2022, a kayaker found the body of a deceased individual stuck near the pilings of a structure at the mouth of the Cowlitz River where it meets the Columbia River in Longview, Washington. The body was recovered by Cowlitz County Sheriff's Deputies, with the assistance of Cowlitz County Dive Rescue Team. The body was that of an adult male. No identification was available for the man. An examination of the body by the Cowlitz County Coroner's Office showed no signs of trauma. Due to the condition of the remains, facial identification and fingerprints were not available. A Forensic Odontologist prepared dental records for comparison in the National Missing and Unidentified Persons System (NamUs). Details of the unidentified person case were entered into NamUs as UP95241. Despite the efforts of law enforcement, the identity of the man remained a mystery.
In December 2022, the Cowlitz County Sheriff's Office partnered with Othram to determine if advanced DNA testing could help to identify the man. Skeletal remains were sent to Othram's laboratory in The Woodlands, Texas. Othram scientists developed a suitable DNA extract from the forensic evidence and then used Forensic-Grade Genome Sequencing® to generate a comprehensive DNA profile. The profile was used by Othram's in-house forensic genetic genealogy team to produce investigative leads that were returned to law enforcement.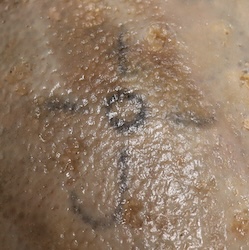 Armed with these new leads, Detectives conducted a follow-up investigation to locate family members of the unidentified man. The man's brother was identified and he was able to positively identify a tattoo on the man's upper left arm. The tattoo was also identified by a subject who had a past relationship and children with the individual. The man is now known to be Bryan M. Heinrich, Sr. Heinrich had been living in local homeless shelters and was last seen by family in March of 2022. Heinrich was 55 years old when his body was found.
There is no indication that Heinrich died as a result of a crime and the investigation will be closed. The Coroner's Office will work with Heinrich's family for the final disposition of his remains. We will provide case updates as they become available.
---